Go Books in the St. John's College Bookstore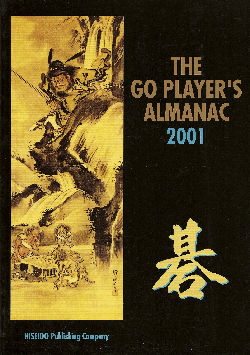 There are many ways to improve one's game. One is to play a lot, another is to have a stronger player analyze one's games. Yet another is to study. There are many Go books available these days and some are carried by the St. John's College Bookstore.
So as a courtesy to NM Go Players here's the list. Please note the Santa Fe Go Club can't be responsible for errors but believe the list is accurate as of May 5, 2011. Bookstore hours include opening on Sundays through Fridays – see the link for more info.
Some of the Japanese language publications may be out of print and might even be collector's item. Please visit the bookstore to verify price and availability.
English language publications can probably be re-ordered. Some Go equipment is also included.
Publisher/Author
Title
Price
Count
Language
Kiseido
100 Dan-level Tesuji Problems
$21.95
2
Japanese
Kiseido
100 Joseki Problems
$21.95
1
Japanese
Kiseido
100 Star-point Joseki Problems
$21.95
1
Japanese
Bozulich
1001 Life And Death Problems
$25.00
1
English
Nihon Kin
180 Life & Death Problems
$30.00
2
Japanese
Nihon Kin
180 Tesuji Problems
$30.00
0
English
Nihon Kin
200 Endgame Problems
$30.00
1
Japanese
Nihon Kin
200 Life & Death Problems
$25.00
1
Japanese
Nihon Kin
200 Tesuji Problems
$29.00
1
English
Kosugi
38 Basic Josekis
$18.00
1
English
Bozulich
501 Opening Problems
$25.00
1
English
Zeijst
All About Ko
$21.00
0
English
Yutopian
Art Of Capturing Stones
$19.95
1
English
Yutopian
Art Of Shogi
$29.95
0
English
Ishida
Attack & Defense
$18.00
1
English
Kaiho
Basic Fuseki Vol 1 Dictionary
$17.50
1
English
Kaiho
Basic Fuseki Vol 2 Dictionary
$17.50
1
English
Yoshiaki
Basic Techniques Of Go
$16.75
0
English
Yoshio
Beauty Of Tesuji 3 Vol. Set
$49.00
1
Japanese
Kiseido
Bewitching Tesujis Vol 1
$35.00
1
Japanese
Kiseido
Bewitching Tesujis Vol 2
$35.00
1
Japanese
Yutopian
Cho Chikun Best Games Collected
$15.00
0
English
Yutopian
Cho Chikun Collected Games
$59.00
0
English
Huiren
Cosmic Go
$18.00
1
English
Takemiya
Cosmic Style 3 Vol Set
$49.00
1
Japanese
Kiseido
Dic Basic Joseki Vol 2
$24.95
1
English
Dictionary Modern Fuseki
$31.95
2
English
Kiseido
Dictionary Of Basic Joseki Vol 1
$23.00
1
English
Kiseido
Dictionary Of Basic Joseki Vol 3
$24.95
1
English
Ogawa &
Endgame
$18.00
1
English
Yoshio
Endgame Dictionary
$35.00
1
Japanese
Yutopian
Essential Joseki
$16.00
1
English
Yutopian
Famous Games Sakata Eio 6 Vol Set
$69.00
2
Japanese
Kiseido
From Opening To Endgame
$35.00
1
Japanese
Kiseido
Fuseki
$19.50
1
English
Kiseido
Fuseki Dict Vol 1
$49.00
1
Japanese
Kiseido
Fuseki Dict Vol 2
$49.00
1
English
Kaiho
Fuseki Dictionary 2 Vol Set
$69.95
1
Japanese
Kiseido
Galactic Go
$19.95
1
English
Bozulich
Get Strong At Attacking
$18.00
1
English
Bozulich
Get Strong At Endgame
$18.00
1
English
Bozulich
Get Strong At Handicap Go
$21.00
1
English
Bozulich
Get Strong At Invading
$21.00
1
English
Bozulic
Get Strong At Joseki Vol 1
$18.00
1
English
Bozulic
Get Strong At Joseki Vol 2
$21.00
1
English
Bozulich
Get Strong At Joseki Vol 3
$21.00
1
English
Bozulic
Get Strong At Life & Death
$18.00
1
English
Bozulich
Get Strong At Opening
$21.00
1
English
Bozulich
Get Strong At Tesuji
$21.00
1
English
Kisedo
Go Board
$25.00
2
English
Chikun
Go Complete Introduction To Game
$15.00
0
English
Bozulich
Go Players Almanac
$30.00
1
English
Niigake
Go Problems 1 Dan
$36.00
1
Japanese
Kataoka
Go Problems 1 Dan
$35.00
2
Japanese
Kataoka
Go Problems 3 Kyu
$28.00
1
Japanese
Yutopian
Go Seigen Collected Famous Games
$79.00
2
Japanese
Yoshio
Go Seigen On Fuseki 2 Vol Set
$35.00
2
Japanese
Yutopian
Go Stones & Bowl Set
$26.00
1
English
Kisedo Yutopian
Go Stones Official Ing
$39.95
1
English
Enterpri
Golden Opportunities
$20.00
1
English
Yoshinor
Graded Go Problems Vol 1
$21.50
0
English
Yoshinor
Graded Go Problem Vol 2
$18.00
1
English
Kiseido
Graded Go Problems Vol 3 Intermediate
$18.00
1
English
Yoshino
Graded Go Problems Vol 4
$21.00
1
English
Yoshio
Great Tesuji In Pro Games 3 Vol Set
$39.00
2
Japanese
Yoshio
Handicap Dictionary
$35.00
1
English
Kiseido
Handicap Go Dict 2 Vol
Set
$55.00
1
Japanese
Kiseido
Handicap Go Dict Vol 1
$55.00
1
English
Otake
Handicap Go Dictionary 2 Vol
Set
$60.00
2
Japanese
Yutopian
Ishida Best Games Collected
$15.00
0
English
Yoshio
Joseki Dictionary Vol 1
$29.00
2
Japanese
Yutopian
Kata Masao Best Games Collected
$15.00
1
Japanese
Kiseido
Kido Year 1990
$75.00
1
English
Kiseido
Kido Year 1998
$75.00
1
English
Yutopian
Kobayashi Best Games Collected
$15.00
1
English
Kiseido
Lessons In The Fundamentals Of Go
$18.00
1
English
Davies
Life & Death
$18.00
0
English
Maeda
Life & Death Advanced
$21.00
0
English
Chikun
Life & Death Dictionary 2 Vol Set
$65.00
1
Japanese
Maeda
Life & Death Elementary
$21.00
0
English
Maeda
Life & Death Intermediate
$21.00
0
English
Bozulich
Making Good Shape
$25.00
0
English
Enterpri
Master Go In Ten Days
$18.00
1
English
Yutopian
Nie Weiping Best Games Yutopian
$15.00
1
Japanese
Kiseido
Pandora's Box Of Life & Death Prob
$35.00
2
Japanese
Chikun
Positional Judgement
$18.00
1
English
Yoshio
Power Of Capping Moves
$12.95
1
English
Yutopian
Pro-pro Handicap
$24.00
2
English
Yutopia
Rescue & Capture
$19.95
1
English
Yutopian
Rin Kaiho Collected Game
$69.00
0
English
Bozulich
Second Of Go
$18.00
1
English
Yutopian
Shi Xiang Xia Collected Games
$15.00
1
Japanese
Yutopian
Shusaku Collected Games
$15.00
0
English
Yoshiter
Step Up To Higher Level
$16.95
1
English
Yutopian
Strategic Fundamentals In Go
$17.50
0
English
Yoshio
Strategy Dictionary
$39.00
0
English
Koichi
Sure Win Handicap 2 Vol Set
$25.00
1
Japanese
Koichi
Sure Win Lectures 3 Vol Set
$35.00
1
English
Yutopian
Takagawa Best Games Collected
$15.00
0
English
Davies
Tesuji
$18.00
1
English
Kiseido
Tesuji Dictionary Vol 1
$49.95
1
Japanese
Kiseido
Tesuji Dictionary Vol 2
$55.00
2
Japanese
Kiin
Tesuji Encycyl. 3 Vol Set
$75.00
1
Japanese
Yilun
Tricks In Joseki
$16.00
1
English
Chatterjee
Whole Board Living Tesujis
$18.95
1
English
Seigen
Winning A Won Game
$18.99
1
English
Kiseido
World Of Chinese Go
$18.00
0
English
Yilun
Yang Yilun's Ingenious Life & Death
$17.50
1
English