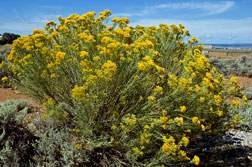 Fall in Santa Fe, NM can be a great time to visit with other Go players. With the aspen trees golden, the chamisas in bloom and mild temperatures it's just wonderful. In autumn, the bright golden-yellow chamisa flowers can be seen all over town. This hardy native of the Rocky Mountain high desert has the botanical name Ericameria nauseosa.
We are pleased to announce that we will be holding the Chamisa Flower Go Tournament on September 22-23 at the Aldea Community Center, 3 Nuevo Milenio, Santa Fe, NM.  This AGA rated tournament, open to players of all strengths, will allow new players to establish an AGA rating and let seasoned players update any existing rating.  Players are strongly advised to register online at GoClubsOnline before close of day Sept 20.
Lunch is included for online registrants and will be served at the nearby Aldea Cafe. On site registrants will be responsible for their own lunch. Beverages with lunch are extra and include coffee, tea, soda, bottled water, beer and wine.
Plan to arrive between 8 and 8:30 am for onsite check-in on Saturday allowing us to start as promptly as possible.
Then after prizes are awarded on Sunday plan to stay for refreshments and Music on the Plaza sponsored by the local Home Owners Association!
You can register now at GoClubsOnline and see more information.